When you visit us, you'll find our valuation process is unique as it is refreshing.
We're nothing like a pawnshop. And unlike a jeweler, we specialize in purchasing your jewelry, not selling you on buying more of it.
So, how does it work?
Bring in any items you think are gold, silver, platinum, or diamonds for a free, no-obligation quote.
Your jewelry or coins will never leave your sight (unless you decide to sit down on one of our comfy couches). Everything is performed right in front of you.
Curious what we're doing? Ask questions! We love to talk about the process of determining the difference between types of gold or the quality of diamonds.
In the meantime, here's what you can expect: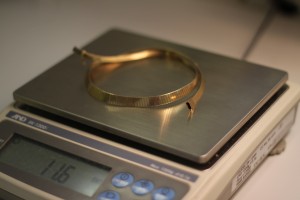 Weighing Your Item
We weigh your items on our state certified scale. This tells us how much gold is in your item. The heavier the item, the more precious metal is contained inside.

Finally, we take all of that information to determine the value based on the current market price for precious metals and diamonds. We pay cash or check on the spot. This whole process doesn't take more than 5 to 10 minutes.
Ready to sell? Or just curious what your items are worth?
Visit us at 3129 Poplar Ave. in Memphis for your one-on-one consultation and cash offer.
Psst…You don't need an appointment. We're always ready to assist you!