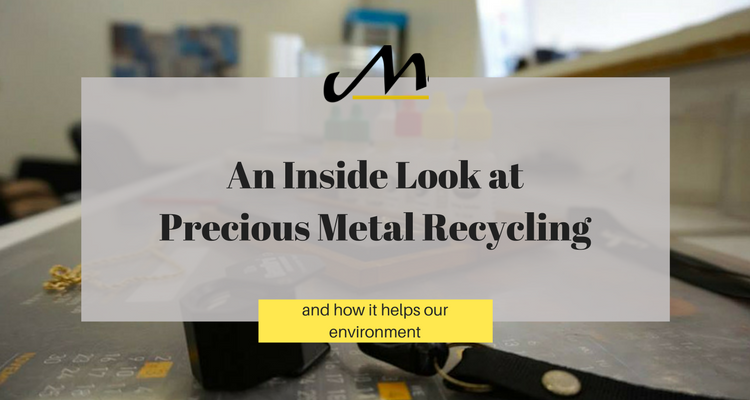 You know what? We love precious metal recycling. In fact, that's how our owner, Alex, got his start in the business.
For years, he worked for a refinery; traveling across states to collect inventory from gold buyers, removing diamonds from jewelry, and melting scrap into bars.
It's an underappreciated industry; stimulating the economy and protecting our environment. A little-known fact is people have always recycled gold. Unlike some commodities (such as coffee or cotton), there's no real consumption of it. Gold doesn't rot or wither away; instead, it's transferred from one party to another.
Even a brand new, never-used, diamond ring from your favorite department store could contain gold with ancient roots!
In addition to coins, bullion, and jewelry, household appliances, and electronic gadgets contain precious metals. But most people are unsure of how precious metal recycling works, which means a lot of silver and gold is thrown away.
One study estimates the potential value of globally wasted resources is $50 billion with most of this waste coming from the U.S. and China. And the volume of gold alone is more than 10 percent of what is mined every year (for reference, in 2017, 3.15 thousand metric tons of gold was mined from the earth).
Modern, industrial gold mining destroys landscapes, creates toxic waste, and depletes the earth of its natural resources. So, with a vast majority of the world wasting gold, even though it's easily recycled, it's a head-scratcher why precious metal recycling isn't a more prevalent practice.
Below, you can learn more about what precious metals you can recycle and how the process works.
What precious metals can you recycle?
Almost all metals are recyclable:
Aluminum

Brass and bronze

Cast iron

Copper

Tin
Of course, we specialize in recycling only precious metals:

Gold

Silver

Platinum

(and Diamonds)
We melt down everything from rings, broken chains, and silver eagles to dental crowns and fillings without degradation in quality (however, please note we do not refine electronic components). You can see a list of items we buy here.
How are precious metals recycled?
While precious metal recycling is an intensive process, it reduces your carbon footprint. It requires less energy, emits less carbon dioxide and other harmful gases, and it creates jobs.
Metal recycling is the process of collecting metals at the end of their life and sorting them according to metal type and quality (that's where we come in).
We assist you in determining the content, quality, and value of each item. Then, through connections with prestigious refineries around the world, we send your items to be processed.
The first step is to remove any diamonds or gemstones. Then, gold is melted in a crucible at around 1,947 degrees Fahrenheit. Depending on how it'll be used, the gold may be poured into a bar and marked by purity. For example, one bar may contain 41.7% gold (10K), and another might contain 75% gold (18K). The bricks are sold to jewelers, dentists, and other buyers to be reused in brand new products.
However, the gold may instead be sent to an additional process called smelting, which burns off other impurities to leave the pure metal.
We don't melt down everything we buy, though. We sell some vintage pieces to retain their antique value. We move Diamonds back into the market. And coins and bullion are already in their purest or desired form.
Recycling, or selling your jewelry, is a small step you can take to change the jewelry industry. It promotes environmental sustainability, lessens the demand for mining, and moves valuable resources back into the commodity. On top of all that social good, you get a return on your initial investment!
A double win, right?