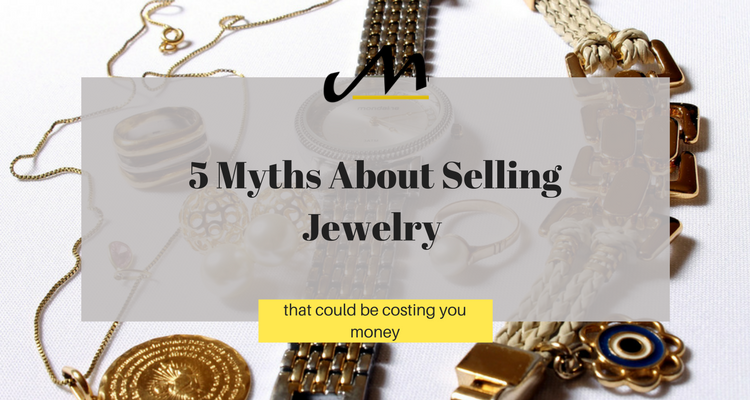 Have you ever opened your jewelry box and felt overwhelmed by the pieces you own but never wear? You dump everything on the floor. And sort through the tangled mess until your blood pressure lowers and your kids crawl out of hiding.
Don't worry. We've all been there. But before you donate, consider selling your old, gold, silver, or diamond jewelry for cash. You may be unsure of the experience. You've picked up bits and pieces of information from friends, family, or online.
Where do I sell jewelry?
Which companies are reputable, trustworthy, and pay the most?
What can I sell? And what has lost all its cash value?
We answer those questions in this blog post, 6 Important Questions to Ask Before Selling Your Jewelry. But yes, it's true. Precious metal recycling stores are a bit of a mystery to most people. That's why we're going to sort fact from fiction so you can have more peace about the process.  
Here are the top 5 myths our customers often believe (and the truth).
Yellow gold is worth less than white gold
There are a few variations of this myth. People often think yellow gold is pure gold. But white gold is more desirable to wear, thus more valuable. But, the only difference between yellow gold, white gold, rose gold, and green gold is the color.
A 14K white gold band weighing five grams is equal value to a 14K yellow gold band of the same weight. They're both pure gold mixed with the same percentage of alloys. The type of alloy may vary to give off a specific hue.
For reference, yellow gold is mixed with copper, zinc, and silver. White gold is mixed with platinum, palladium, nickel or zinc to give it that bright, white color. Rose gold contains copper and silver. And green gold contains silver.
To know how much your jewelry is worth, you need to know two things:
Weight

Purity of the metal (the percentage of gold in your piece)
All your jewelry should be weighed on the scale at the same time
Sometimes our customers ask why we sort their jewelry before weighing it. Reputable sources (those customers) cite some places weigh it all together.
That's more troubling than fried butter, Memphis! Your jewelry should be sorted by purity (or those karat markings) before weighing. For example, 14K gold jewelry — of any color — is 58.5% gold. While 10K jewelry is 41.7% gold, so your 14K jewelry is worth almost 17% more!
If both karats are weighed on the scale at the same time, you're likely losing money.
The bigger the diamond, the more it's worth
Know someone with a massive rock on their finger? There's a reason they're keeping you at arm's length. If you get a closer look, you'd see several inclusions or a yellow hue.
Size is not the only determinant in how valuable a diamond is on the market. In fact, we valued a 3-carat diamond for less than $1000. A brown-orange color and imperfect clarity made this rock undesirable.
Your diamond's value is based on its color, cut, clarity, and carat. All are important in the pricing of your diamond — learn more about each criterion here. On the flipside, your half-carat engagement ring that's clear and full of fire could be worth a pretty penny!
Jewelry that is old, vintage, or an heirloom is more valuable than modern pieces
Halfsies on this one. A vintage piece of jewelry could be worth thousands of dollars. But, most trinkets passed down from generation to generation aren't valuable. Often, they're costume jewelry, impulse buys from Caribbean destinations, or mass produced designs of their time.
You can sell any piece for its precious metal and diamond value. Remember to set realistic expectations. And choose a trusted buyer who can help you estimate the value of your items.
You can't sell old, broken jewelry for cash
We see our fair share of beautiful, designer jewelry. But, the vast majority of our customers sell broken, mismatched, unwanted, pieces. They get handfuls of cash for it too!
The purpose of precious metal recycling is to collect metals and gemstones at the end of their life. Then, repurpose them into something beautiful and wearable. Like your favorite thrift shop, precious metal recycling doesn't discriminate against used or old jewelry.
Have we debunked all your jewelry myths today? From understanding how diamonds and gold are valued to knowing what you can sell, we hope we've equipped you to make better selling decisions. If you have any questions, don't hesitate to call us!